Need Fast Fridge Repair in Ottawa?
When your fridge stops working, it is not just your fridge, it is your freezer section as well. When your meat and everything else is thawing it is an emergency! We provide responsive fridge repair across Ottawa to help get things back on track for you as soon as possible. 
 If you own a home and have appliances, you know that they're not the most reliable things on the planet. They break down all the time, in every home. This is doubly true of refrigerators. A refrigerator is a seriously complicated contraption! It has dozens of moving parts, sensors, thermostats, and other complex mechanisms. If any of those things break down or stop working properly, your fridge might not be able to keep your food cold anymore.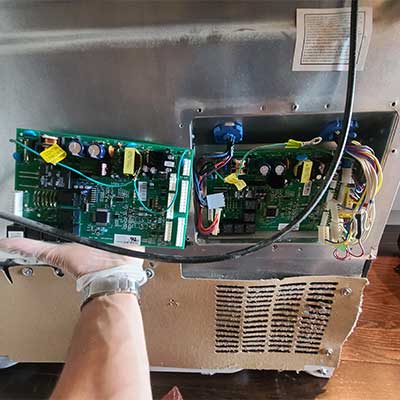 Get in touch with our experienced team for honest and reliable fridge repair services!
Looking for a reliable refrigerator repair service in Ottawa? Look no further than the experts at Honest Guys Appliance Repair Ottawa! Our team of highly skilled technicians are experienced in all types of refrigerator repairs, from simple issues like leaks and noisy compressors to more complex problems like temperature control issues and ice buildup. 
 We're familiar with all the major brands of refrigerators, so you can rest assured that your repair will be done right the first time. And because we understand how important your fridge is to your home, we offer same-day service so you can get your life back to normal as quickly as possible. So don't wait any longer, call Honest Guys Appliance Repair Ottawa today! 
 So many customers have asked us, "Do you perform fridge repair near me?" Whether you live in Ottawa East or Ottawa West, we can help! Contact us today to get fast and honest appliance repair in your neighbourhood. 
 We believe in honesty and reliability when it comes to your fridge repair needs. We will never make a recommendation to repair something if it won't benefit you. This is why we have our honest assessment guarantee. Honest Guys Appliance Repair Ottawa cares about helping every single one of our customers and can't wait to help you with your fridge repair, whether you are in Ottawa East, Ottawa West or the surrounding rural areas! 
We Perform Fridge Repair Ottawa-Wide, Ottawa East, Ottawa West, Orleans, Kanata & These Areas
Gatineau | Nepean | Richmond | Blackburn Hamlet | Barrhaven | Cumberland | Rockland | Kempville  | Gloucester | Winchester | Osgoode | North Gower | Mississippi Mills | Russel | Stittsville | Embrum | Winchester | Goulbourn | Dunrobin | Barrhaven