Looking for Fast and Reliable Dishwasher Repair or Installation in Ottawa?
When you've got a family and a busy life, a dishwasher can make the world of difference between sitting down at the end of the day or staring at a sink full of dirty dishes. If you need reliable dishwasher repair or if you are looking for a brand new dishwasher installation, you can count on us to help. We provide responsive dishwasher repair throughout Ottawa to help get things back on track for you as soon as possible.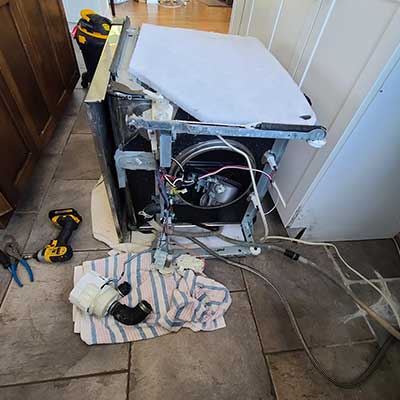 Dishwasher not working? Get in touch with Honest Guys Appliance Repair to have it fixed as soon as possible!
Looking for a reliable dishwasher repair service in Ottawa? Look no further than the experts at Honest Guys Appliance Repair Ottawa! We have years of experience repairing all brands of dishwashers, and we're always up-to-date on the latest advances in dishwasher technology. 
We understand that a broken dishwasher can be a major inconvenience, so we offer same-day service and 100% satisfaction guarantee. We also offer a wide range of other appliance repair services, so you can rest assured that we're your one-stop shop for all your appliance needs. Call us today to schedule a repair, or browse our website to learn more about our services. 
So many customers have asked us, "Do you perform dishwasher repair near me?" Whether you live in Ottawa East or Ottawa West, we can help! Contact us today to get fast and honest appliance repair in your neighbourhood. 
We believe in honesty and reliability when it comes to your dishwasher repair needs. We will never make a recommendation to repair something if it won't benefit you. This is why we have our honest assessment guarantee. Honest Guys Appliance Repair Ottawa cares about helping every single one of our customers and can't wait to help you with your dishwasher repair, whether you are in Ottawa East, Ottawa West or the surrounding rural areas! 
We Perform Dishwasher Repair Ottawa-Wide, Ottawa East, Ottawa West, Orleans, Kanata & These Areas
Gatineau | Nepean | Richmond | Blackburn Hamlet | Barrhaven | Cumberland | Rockland | Kempville  | Gloucester | Winchester | Osgoode | North Gower | Mississippi Mills | Russel | Stittsville | Embrum | Winchester | Goulbourn | Dunrobin | Barrhaven